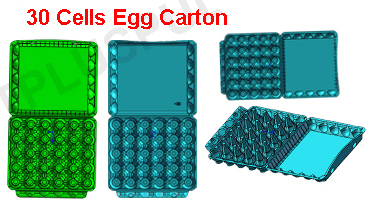 30 Cells Pulp Egg Carton Factory Produces 30 cells Egg carton Boxes, that is a cost-effective, eco-friendly, and customizable option for transporting and storing eggs. It is designed to protect the eggs against damage, temperature changes, and prevent breakage during transport.
Welcome to get a quote about Egg Cartons via E-mail : info@packingcity.com or vip@bestpluspulp.com
30 cells pulp egg carton is a versatile and cost-effective packaging solution suitable for transporting, storing and organizing differently-sized products. They are environmentally responsible and well-suited for individuals and businesses that prioritize sustainability and want to reduce their carbon footprint.
30 cells pulp egg cartons are FDA-approved, ensuring they meet strict safety and hygiene standards. This means that the packaging materials used are safe for food contact and won't contaminate eggs with harmful chemicals or substances.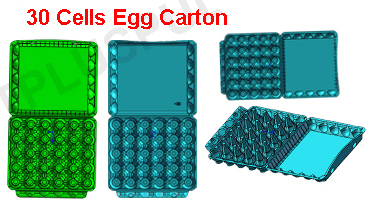 There are a lot of advantages for Fresh Egg Packaging markets.
Welcome to get a quote about Egg Cartons via E-mail : info@packingcity.com or vip@bestpluspulp.com
Egg Protection:
The design of the 30 cells pulp egg carton provides excellent protection to the eggs, preventing breakage during transport or storage. Due to their absorbent properties, these cartons can also help to manage moisture, further protecting the eggs from spoilage.
Branding on Demand:
For businesses that need a unique design on an egg carton but do not require large quantities, some companies offer printing solutions for smaller runs of cartons with full-colour printing, allowing startups and small businesses to create custom-branded egg cartons for just the number needed, reducing costs and eliminating unnecessary waste.
Eco-Friendliness:
30 cell pulp egg cartons are environmentally friendly because they are made from renewable resources and are biodegradable. The cartons can be easily recycled, which contributes positively to the environment's conservation while promoting sustainable packaging practices.
Marketing Advantages:
30 cells pulp egg cartons help market products directly to consumers as they provide businesses with branding opportunities that increase brand visibility both inside and outside the stores or supermarkets.
Material Strength:
30 cells pulp egg cartons are made from sturdy and durable materials that can withstand the rigors of shipping and handling. The paper fibers used to create the packaging are strong enough to protect the eggs from jolts and impacts throughout transportation.
Cost-Effective:
The availability of 30 cells pulp egg cartons in bulk makes them a cost-effective option for businesses looking to reduce packaging costs significantly. They can be easily acquired and make up an affordable alternative to plastic or foam trays.
In summary, 30 cells pulp egg cartons offer numerous benefits and have impressive qualities beyond just packaging; it is versatile, cost-effective, easy to use and dispose of while offering significantly improved sustainability than other types of packaging systems. They remain an attractive option for businesses seeking to improve environmental conservation practices while maintaining effective product preservation during transportation and handling.
Welcome to get a quote about Egg Cartons via E-mail : info@packingcity.com or vip@bestpluspulp.com
Available as ten-egg, six-egg cartons, 4-egg cartons, 12-egg cartons, 15-egg cartons, 18-egg cartons, 20-egg cartons, 2×6-egg cartons.
The color egg carton can be supplied to all over the world, such as Europe, America, South America, Chile, Paraguay, Peru, Uruguay, Australia, Bulgaria, Israel, Qatar, Irish, moldova, Russia, Thailand, Indonesia, UAE, Philippines, Brunei, Malaysia, Singapore, Indonesia, Maldives, Saudi Arabia, Bahrain, Qatar, Kuwait, United Arab Emirates, Oman, Yemen, Georgia, Armenia, Azerbaijan, Turkey, Jamaica, Costa Rica, Panama, Argentina, Ecuador, Peru, Bolivia, Madagascar, Mauritius, Botswana, Zimbabwe, Kenya, Tanzania, Gabon, Senegal, Ghana, Côte d'Ivoire, Egypt, Libya, Tunisia, Algeria, Morocco, Portugal, Spain, Andorra Italy, San Marino, Vatican, Malta, Slovenia, Croatia, Bosnia and Herzegovina, Montenegro, Serbia, Albania, North Macedonia, Bulgaria, Greece, Romania, Cyprus, Estonia, Latvia, Lithuania, Belarus, Ukraine, Moldova, Russia, Germany , Switzerland, Liechtenstein, Poland, Czech Republic, Slovakia, Austria, Hungary, United Kingdom, Ireland, France, Monaco, Netherlands, Belgium, Luxembourg, Iceland, Denmark, Norway, Sweden, Finland, New Zealand.
Molded fiber packaging is very sustainable, 100% biodegradable and ideal for all your corporate branding needs.
Molded fiber packaging is very sustainable, 100% biodegradable and ideal for all your corporate branding needs.
Welcome to get a quote about Egg Cartons via E-mail : info@packingcity.com or vip@bestpluspulp.com
100% recycled flat-top egg carton is great for labels and customization with our custom rubber egg carton stampers or custom egg carton labels. Our Pulp egg trays are manufactured from clean corrugated paper.
From www.packingcity.com We manufacture and customize the Pulp Paper Tray and Cartons, Shoe Pulp Tray, Egg Tray, Egg Cartons, Pulp Basket, Wine Pulp Tray and other customized Pulp packaging products.
Email: info@packingcity.com
Website: www.packingcity.com